Copyright The Guardian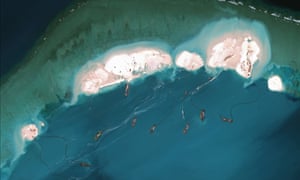 On 26 May, CNN broadcast an unusual clip of a US navy intelligence flight over the South China Sea. The P-8A Poseidon surveillance plane – one of the newest weapons in the Pentagon's arsenal – had taken off, with a CNN reporter on board, from Clark airbase in the Philippines, once part of America's largest overseas base complex during the cold war. After about 45 minutes, the plane reached its first target – which had, until recently, been an obscure, almost entirely submerged feature in the Spratly Island group.
Fifteen thousand feet below, dozens of Chinese ships tossed at anchor. Their crews had been working day and night for weeks, dredging sand and rock from the ocean floor to fill in a stunning blue lagoon – turning a 3.7-mile-long reef that had only partially revealed itself to the daylight at low tide into a sizable man-made island nearly 1,000 miles away from the Chinese mainland.
At the approach of the American aircraft, a Chinese radio operator can be heard addressing the pilot: "This is the Chinese navy. This is the Chinese navy … Please leave immediately to avoid misunderstanding." When the plane, which was busily photographing the land-reclamation effort, failed to heed these instructions, the operator grew exasperated, and the recording ends as abruptly as it had begun, with him shouting the words: "You go!"
For many people who viewed this clip, it might have almost passed for entertainment, but the plane continued on to a place called Fiery Cross, whose history and recent development point to how deadly serious the struggle over the South China Sea has become. Fiery Cross came under Chinese control in 1988, following a confrontation with Vietnam at a nearby site, Johnson Reef, where Chinese troops opened fire from a ship on a contingent of Vietnamese soldiers who stood in knee-deep seas after having planted their country's flag in the coral. A YouTube video of the incident shows dozens of Vietnamese being cut down in the water under a hail of machine-gun fire.
To read the entire piece, please follow this link.