When Britain handed over control to China in 1997, Hong Kong was a beacon of freewheeling prosperity – but in recent years Beijing's grip has tightened. Is there any hope for the city's radical pro-democracy movement?
Early one morning in January, under the veil of darkness, a team of undercover police from China quietly entered Hong Kong's Four Seasons hotel and made their way into a luxurious residential suite. After sweeping aside the billionaire occupant's private contingent of female bodyguards, they shrouded the man's head in a white sheet and bundled him off in a wheelchair.
Xiao Jianhua was one of China's richest businessmen. He had built his fortune over the past two decades through deals involving the cream of China's political elite, reportedly including close relatives of the president, Xi Jinping. Because of China's opaque political culture, one can only speculate about the reasons for Xiao's abduction, but it seems that he had taken careful steps to protect himself. Not only was he residing and conducting his business outside of China, his country of birth, he had a diplomatic passport from Antigua and Barbuda and had adopted Canadian citizenship, perhaps thinking that this might offer him some extra degree of legal or diplomatic protection.
Hong Kong fields its own police, border control and immigration services, each theoretically separate from China's own vast security apparatus. But when authorities in Beijing decided to come and get Xiao, none of that mattered. Since then, Hong Kong authorities have not dared to publicly protest Xiao's arrest, nor has China offered any explanation.
The incident was yet another blow to the idea that Hong Kong has control over its own affairs. Just a year earlier, five publishers and booksellers had been secretly whisked away to China for interrogation. From unknown places of detention, where most of them remain, some were forced to make crude televised confessions. Like Xiao's abduction, this incident remains shrouded in secrecy, but many believe that the five men were targeted for selling lurid books about rivalries and corruption at the highest level of Chinese politics. Such books were particularly popular with visitors from the mainland, who could never find such uncensored material back home. One of the publisher's books purported to reveal details of President Xi's secret love life.
For many Hong Kong residents, the abductions were reminders of the sheer flimsiness of the agreement negotiated between Britain and Beijing when China regained sovereignty of the city in 1997. Indeed, Xiao's abduction had been preceded by an even bigger blow to the promise of self-rule in Hong Kong. In November, a pair of young, telegenic candidates, who had just won election to the city's Legislative Council, were denied their seats. LegCo, as it is widely known in Hong Kong, is a semi-democratic, 70-member body that makes laws, approves budgets and can hold the city's governor to account. No one disputed that the two candidates, who represented a new pro-independence political group named Youngspiration, had prevailed at the polls. The pretext offered to reject them was that they had refused to specifically pledge allegiance to China during their oath-taking ceremonies, instead using the phrase "the Hong Kong nation". (Establishment politicians also complained that they had referred to China with the derogatory term "Shina", a word once favoured by Japanese imperialists.)
Hong Kong's staunchly pro-Beijing chief executive, Leung Chun-ying, first sought a court injunction to prevent the Youngspiration candidates from taking their seats. This was a worrying move – but then Leung did something unprecedented and, for many locals, far more disturbing. Eliminating any discretion Hong Kong's independent courts might have had in the matter, Leung put the issue before Beijing, inviting a leading committee of the Chinese National People's Congress to rule on the dispute. The pair were duly disqualified from office.
Since the handover, Beijing had rarely intervened in Hong Kong politics so bluntly, and anger over this turn of events quickly spread, especially among younger people. The mood remains tense. On the day after I arrived in Hong Kong in January, a delegation of pro-democracy activists flew to Taiwan, led by the city's most prominent opposition leader, 20-year-old Joshua Wong. At the Hong Kong airport, just before departure, and then in Taiwan, crowds of pro-China demonstrators jostled Wong's delegation and showered them with threats and insults. Many commentators described the demonstrators as rent-a-mobs pulled together by organised crime groups acting on behalf of Beijing. The mobs were there to send the message that no one from Hong Kong who preaches separation from China is beyond Beijing's reach.
If that was indeed the intention, the message seems to have been received. But that is not all that was delivered. I have been visiting Hong Kong since the late 1990s, and after more than a week of scheduled interviews and spontaneous encounters with people of many different walks of life and political persuasions, what I found was an unmistakable, shared sense of foreboding among the people of the city. In formal interviews and over meals in crowded, neighbourhood restaurants, the fear people expressed was that their home – one of Asia's freest and most cosmopolitan cities – is locked on a collision course with the authoritarian system that governs China.
The freedoms and democratic culture that make Hong Kong so special might not survive. As one prominent lawyer put it to me: "If there is a solution to Hong Kong's predicament, surely no one has imagined it yet."
---
For years, Hong Kong residents have looked forward to 2017, the 20th anniversary of the British departure, as a milestone in their political evolution. According to promises made by Beijing, this was meant to be a moment when they would take a critical step toward direct universal suffrage, under the city's mini-constitution.
Instead, when the city's next elections are held on 26 March, rather than ushering in a more democratic era for Hong Kong, they will be conducted under the old terms, leading many people to fear a return of the protests and confrontation that have marked the last three years.
Relations between Hong Kong and the mainland haven't always been like this. At the time of the handover in 1997, the anxiety that many of Hong Kong's 6.5 million residents felt about the future under the Chinese Communist party was offset, in part, by a strong surge of pride. It is true that thousands of locals emigrated, or sought second passports as a hedge against the uncertainty of this new era. But many others believed that as people on the mainland grew wealthier, political liberalisation would follow. Rather than Hong Kong being remade as China, China would come to look ever more like Hong Kong. For people of this persuasion, there had never been a better occasion to reaffirm one's Chineseness.
It helped, of course, that the most vital things had not been left to chance. Britain's final act of decolonisation, which had been negotiated for decades, appeared to cede control over the city not so much to the Chinese state as to the people of Hong Kong themselves. Under an arrangement with Beijing that became known as "one country, two systems", Hong Kong would be allowed to govern itself for 50 years with minimal Chinese interference. (Even then, however, there were local critics who bemoaned what they saw as a design flaw, or original sin, even: the people of Hong Kong were given no role in negotiating the new terms.)
Hong Kong was so valuable to Beijing's state planners that optimists convinced themselves the Chinese Communist party would not risk tampering with it in any fundamental way. The city had been the first source of capitalist investment for China – booster fuel during its initial economic takeoff in the early 1980s. Through the 1990s and into the next decade, Hong Kong remained an all-important source of investment, as well as a conduit through which China hungrily absorbed western technology and management techniques. Western-style institutions, such as the city's impartial courts, transparent financial markets and free press, moreover, made Hong Kong a halfway house for China's own nascent global companies. It was the ideal place to set up international operations, giving them the extra credibility they needed to win over skittish foreign investors.
One other factor helped reassure Hong Kongers who felt anxious about their future. To many observers, "one country, two systems" seemed partly designed to appeal to the 23 million people of Taiwan, a self-governed democracy off the coast of the Chinese mainland. Bringing Taiwan into the fold of a unified China had been a sacred goal for the Communist party ever since 1949, when Mao defeated China's Nationalist government, which fled to the island. Now, political commentators throughout the region speculated that if Hong Kong was seen to be prospering as a liberal society under Chinese sovereignty, then perhaps the people of Taiwan might also be gradually won over to the idea of uniting with the mainland under a similar arrangement.
During its early years of implementation, many international observers gave "one country, two systems" good odds to succeed. For some, it even looked like a true "shuang ying" (win-win), one of the most cherished stock phrases of Chinese diplomacy. When one factored in Taiwan, it looked like it could even become a win-win-win: something that all three societies might eventually come to embrace.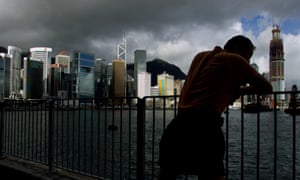 Today, though, in the 20th year after the handover, this Sino-British arrangement is charitably described as limping along on life support. Many believe it is in danger of collapsing altogether, even as a pretence. As China has grown richer and more powerful, it has also become less patient and less willing to sacrifice control. In Hong Kong, meanwhile, the idea of "one country, two systems" has been riven by the sudden upsurge of enthusiasm for autonomy. Beijing has found itself confronted by increasingly disaffected and radicalised youths, who are as unwilling to compromise over democracy and civil liberties as China is itself.
For its part, Britain – Hong Kong's old colonial master – has been reluctant to publicly criticise Beijing, as it eagerly courts Chinese business and investment. Chris Patten, the Conservative peer and last colonial governor of the city, recently said: "I feel very strongly that we let down the parents of this generation of democracy activists. I think it would be a tragedy if we let down these kids as well."
To read the full article, please click here.